We are closing our berry patch for the 2018 season.
Thank you to everyone who has come to pick at our farm this year.
Our largest berries are on varieties that ripen first.
If you are interested in finding out about becoming a U-Pick customer e-mail us at berries@hartapiaries.com with "blueberries" in the subject line for more information. We are listing our address in this fashion to slowdown the spam. Watch this site for more details in the coming days.
We supply lined plastic buckets to pick berries into. When your bucket is about 1/2 full we recommend that you take the bag of berries out and we will give you a new bag. The bags are yours to take your berries home in and by stopping the picking volume at this point berries are not normally crushed by the weight of the berries above them. We do recommend that you bring a cooler to take your bags of blueberries home in because this will help extend the shelf life of the berries. We recommend that pickers come early in the morning when the berries are still cool and the field is not so hot. Bring a hat to provide some shade for your head.
If you are not sure what you can do with blueberries you may want to take a look at Pickyourown.com. They have some ideas like making blueberry jam, freezing blueberries and a blueberry pie.
Customers often ask if our berries are organic. We tried to be organic but our experience has been that the bushes do not grow well without commercial fertilizer so we have used commercial fertilizer. We do not spray any pesticides or herbicides on our farm. We are looking for organic ways to deal with a newer pest in our area - the Japanese beetle.
These two images are from the patch. These are Duke blueberries and they are our earliest ripening variety.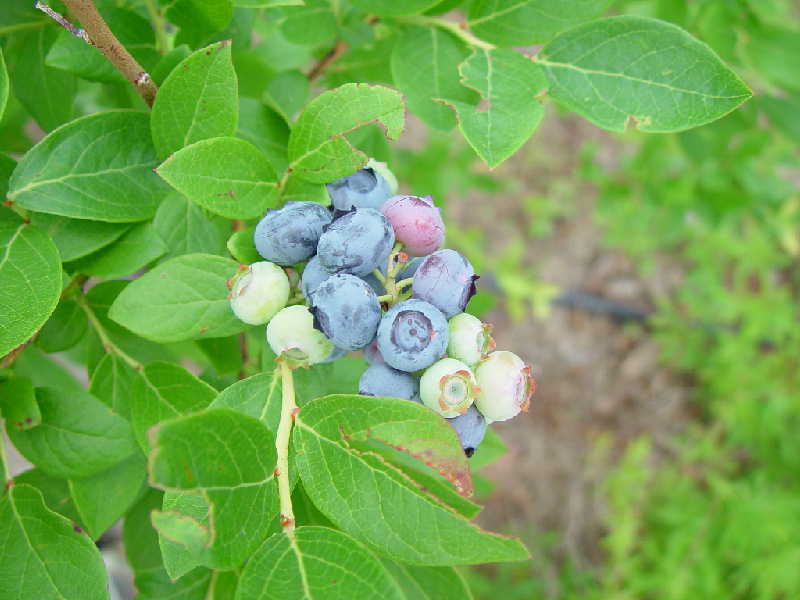 History:
We added blueberries to our farm in 2005. We planned to sell the blueberries in a U-pick fashion with a twist. Since blueberries are in short supply in our area we initially offered customers a chance to "buy-in" to our blueberry farm. Those "prepurchasing" customers received a discounted price and a selected section of the patch to pick the amount of berries pre-purchased. Each of those customers pays us each year for a certain amount of blueberries for the 5 years of the contract. The catch is they get to pick that amount of blueberries when the patch comes into production. We planted 430 blueberry bushes in 2005 and had a few berries in 2006. Things were looking very good in 2007 as the patch was full of white blossoms. However, the weather changed and we had two nights of 17 degree F temperatures which destroy the entire blueberry crop and even killed a couple of our peach trees. 2008 turned out to be a very good year for our patch. We were spared hail that destroyed the entire crop of another blueberry patch only 12 miles away. We had enough blueberries for all of our prepurchasing customers and more for others who happened to stop by. The 2009 crop was also very good. The patch produced about 125% of what it produced in 2008. 2010 produced another nice crop with another yield increase of more than 125%. 2011 was another nice crop with a few unusual differences - mainly the very hot early June temperatures ripened our berry crop earlier than usual making this the shortest and most productive season yet. 2012 was a very unusual year that started with unusually warm weather early in the year. The weather was very dry but the blueberries were OK with the irrigation. The berries ripened about a month ahead of "normal" and we started picking in mid May but then the weather cooled a little and the birds moved in. We were only able to harvest about 30% of the berries we harvested in 2011. In 2013 was a very productive year. Just over 750 pounds of blueberries were harvested from our patch and we fulfilled the final prepurchasing contracts. 2014 was a good year with just over 575 pounds of blueberries. If you missed picking at our patch in 2014 please send us an email and we will put you on our email list next spring. Plan to come early before it gets hot and while the largest varieties of berries are ripe.
Flowers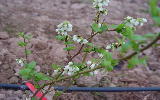 This bush and many of the others flowered that first spring. We had many fruit blossoms and we hope they over wintered well.
Mulching the patch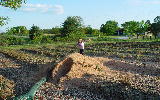 We have been working hard to get the patch mulched and control weeds. You can see one of our helpers making use of a sawdust pile while we were taking a break.