Tapers & Pillars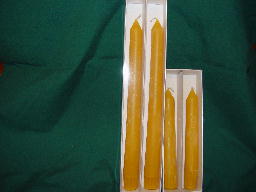 We have 6 and 10 inch molded taper candles. These are all made from beeswax - not a mixture of waxes and we do not add scent to them. They all have the natural beeswax scent.
Rolled Candles

Rolled beeswax candles. We sell these by the pair in single colors. These candles make great decorations and they can also be used as other candles. They burn approximately 1.5 inches per hour. We have wax sheets in the following colors: Red, Green, Natural, Wine, White and Orange.
Bring the kids out to roll a candle when it is warm. They usually really enjoy making something they can take home. It is only $2.50 to roll a candle you can take home and actually burn.