Honey From the Hart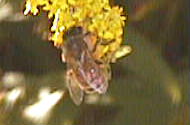 We are closing our berry patch for the 2018 season.
Thank you to everyone who has come to pick at our farm this year.
Local honey is currently available.
What We Do
Hart Apiaries produces and sells honey, pollen, bees wax, candles, honeybee images and queen honeybees. We have bees to rent for crop pollination (Soybeans, Apples, Peaches, Clover, Berries, etc.). We can remove unwanted honeybee swarms and colonies and we can remove bumblebee nests. If you have a group that is interested in learning about honeybees we are willing to present short talks at meetings. Who have we given presentations to? Schools, singles groups, nursing home residents, etc.
Location
3738 Highway 47
Lonedell, MO 63060
How to order our products
You can purchase at our online store or you can stop by and make a purchase at the farm. Please make arrangements with us if you are coming to the farm on a day that we have not specified that we will be open so we don't miss you. We do accept credit cards online but not at the farm.
We are located on highway 47 between Highway 30 and the Franklin / Washington county line. The online maps do not seem to locate us very well consistently so if you want directions we recommend that you email us your general vicinity and we can send you directions to us.
If you are interested in our honeybee images please contact us. We have many electronic images (swarms, catching swarms, foraging honeybees, bees laden with pollen, pollen, images of comb and bees, etc.) and if we don't have what you are looking for we may be able to make the image you are looking for.
Keeping honeybees has continued to reveal to us that there is indeed a Creator of our world and the life on it. If you would like to learn more about the Creator who has designed our world and us with so much care please go the online Bible school and learn more for yourself - from the Bible.
Here is an amazing site about Bible Prophecy and the time of the end. When you can't find anything good to watch on TV we have found an channel with something inspirational Three Angels Broadcasting Network (3ABN). Discover Bible Prophecy Seminar has some interesting material as well.
U - Pick Blueberries and Sustainable Agriculture Research and Education (SARE) grant
We added blueberries to our farm in 2005.